HISTORY

...at the tender age of 15, Johnny began "sitting in" with his brother's band,
Little Joe & The Latinaires and other professional guest bands from out-of-town.

At the age of 17, while Johnny was working with Bridge Builder Co. in Fort Worth, Texas, his brother Jesse drafted him into the band. While attending a recording session with the band in San Antonio, Texas at which time the song "Ramona" written by his brother Jesse, and "Little Girl of My Dreams" written by his brother Little Joe, were to be recorded, Johnny was asked to do the vocals on the spot.
Later that year Johnny recorded "Por Un Amor", that was to be a historic day, as this went on to become a major hit, launching Little Joe and The Latinaires to a national status, (Por Un Amor, the album/C.D. has sold over 1 1/2 million units since then and continues to be one of the most requested songs to date) this was the beginning of his lifelong musical career with Little Joe and The Latinaires now known as "Little Joe Y La Familia".



Johnny's signature song "Por Un Amor" went on to become the first of many hit songs for Johnny Hernandez.

Performing for over twenty four years with Little Joe Y La Familia, Johnny was and continues to be a vital part of the history of what has today become known as Little Joe y La Familia...considered by many music historians to be major pioneers and trailblazers of Tejano music.



Johnny Shared The Billing With:

Herb Reed & The Platters, Barbara Lynn, Archie Bell, Roy Head, Susan Anton, Rich Little, Santana, Tower of Power, Tierra (Rudy & Steve Salas) , Malo, War, Pablo Cruz, Paul Rodriguez, La Sonora Santanera, James Brown, Billy Gibbons of ZZ Top, Brenton Wood, Rosie & The Originals, Al Wilson, Los Freddy's, Los Angeles Negros, Los Tigres Del Norte, Ramon Ayala, Jose Alfredo Jimenez, Tony "Ham" Guerrero, Jose (Chocho) Gallardo, Cal Tjader, Luis Gasca, Mongo Santa Maria, Asleep At The Wheel, Willie Nelson, BJ Thomas, Tommy Alvarado; Salsa legends:

Larry Harlow and Nestor Sanchez,

and the list goes on…

For Bookings: (505) 453-7244
E-Mail:

jdh95825@yahoo.com



Website Design By:

V.A.M.P.

- (702) 234-9606

E-Mail:

valentina.online@yahoo.com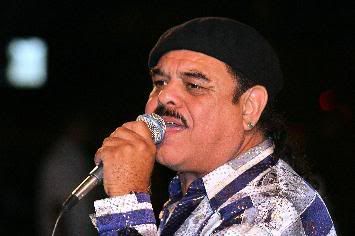 Photo By: Mario Rodriguez
©Copyright 2016 Johnny Hernandez. All rights reserved.
Web Hosting powered by Network Solutions®