DosCentavos.Net Reviews ~ Paz Mundial/Johnny Hernandez
by Stace Medellin
Posted on August 26, 2014 | Leave a comment
My favorite Onda Chicana legend is back with a new production recorded right here at Houston's Jaz Trax Studio. Johnny Hernandez recently released the digital version of his newest CD, Paz Mundial, issued by his label, Stronghold Records. It's available on CDBaby for your convenience. Hernandez released the title-track during Independence Weekend; a call for world peace, but also dedicated to those who serve in the military.
The Tejano music legend, recently nominated for three 2014 Tejano Music Awards for his last CD, Aventurero, worked with local producer/guitarist Vick "Nash" Espinoza on his latest work. Hernandez, known for his smooth, blues-infused vocals, is still on top of his game as a vocalist and performer and gave us another one to add to the collection.
With eight rancheras, two ballads, and the R&B-styled title track, the CD will leave folks more than satisfied. Add some horns, some great guitar, and some amazing harmonies and Hernandez has given us another winner.
The current single, Le Escribo Al Amor, is the kind of ranchera that established Johnny as a soloist and has already gotten his fans excited. Una Noche Mas and Cuando Me Vaya, with their horn-foundations and harmonies remind one of that big band sound from the 70s. Te Voy A Amar and Tonto are memorable rancheras with infusions of that R&B/old school sound. Quisiera is an acordeon-heavy Tejano tune with some amazing lyrics. Me Gusta and Ana round-out the rancheras and they are equally great.
All this said, the tune that really got me going was Cuando Yo Me Este Muriendo–one of those baladas rancheras that makes you break out the gritos and maybe shed some tears. Espinoza's guitar and the horn section provide something close to a mariachi sound as the singer calls on his friends to not shed a tear when he dies, but to find a mariachi and celebrate. It's definitely my kind of song. The CD closes with Cada Vez, a love ballad with beautiful piano accompaniment and a sax solo that all will enjoy.
As I've written before, Johnny is one of my Facebook friends and I got to actually met him a couple of years ago at a local gig. What he gives you in person, he gives you in his music–his heart and soul. So, Paz Mundial is a must-get for the collection.
Web Posted: 03/11/2009 6:00 CDT -
Latin Notes: Johnny Hernandez back in Texas, studio
By Hector Saldaña - Express-News Staff Writer


By any measure, Johnny Hernandez is part of Tex-Mex and Tejano Royalty.


With his older brothers, he helped invent the genre, singing for 25 years with Little Joe
and The Latinaires and Little Joe y La Familia, delivering classic hits such as
"Por Un Amor" and "Las Nubes."


Hernandez is back in Texas with a gritty new horn band and a new single, "Gracias,"
a sly kiss-off song.

"Really, the song is like a break-up and goodbye and thank you and I'll see you later,"
said Hernandez. "But the guy is saying it in such a polite manner that it goes over
(the listener's) head. It's such a smooth send-off."


Johnny Hernandez y La Gente perform at Market Square on Saturday.
Showtime is 8 p.m.


He's living in Austin after a 13-year stint in Los Angeles and Las Vegas.


"I really wanted to get back to the basics and with what we were doing with La Familia
in the '70s," said Hernandez. Keyboardist Julian Carrillo, a veteran of Little Joe y
La Familia and the Latin Breed, is in the band.


Unfortunately, the competitive brothers — Johnny is the extrovert; Joe is a bit
more introverted — are still estranged.


"I literally have not had a conversation with him," he said. "I'm sure he's aware of the
new recording. But we don't communicate like we used to."

Hernandez, 64, is recording a new album with Grammy-winning producer
Gilbert Velasquez. He acknowledged he had an identity crisis when he first left
Little Joe y La Familia. Promoters and booking agents didn't want to work with him.


"I had a hard time booking myself, to my shock," he said. "But I finally realized that I
had to do my own thing for myself — and solely by myself, so that I could finally get
out from under that shadow."



One area where the Hernandez brothers would surely agree is the role of their late
brother, bassist Jesse Hernandez.

"He was the force behind the whole thing," recalled Hernandez. "He's the one that
pushed Joe. And he's the one that hired me, literally, drafted me into the band. He
was between us. He was the one that I was closest to in the whole family. We all grew
up in the cotton fields. But Jesse and I grew up hanging out in the street with the
guys."

http://www.mysanantonio.com/entertainment/music/Latin_Notes_Johnny_Hernandez_back_in_Texas_studio.html






Another Legend Comes to the Land of 1000 Dances

Johnny Hernandez cruises Aztlan...again.

By Frankie Firme | Web Published 9.12.2007

http://www.latinola.com/story.php?story=4451



Whether it be California, New Mexico, Arizona, Texas, Colorado, or Nevada, the influence of Aztlan continues to spread beyond it's borders to enrich the masses...

...not geographically, not politically, not financially, and certainly not militarily or revolutionary...

...but artistically, culturally, and musically. That's from the heart & soul ...

That being said, consider this "Part II" of a story about a Chicano Music legend's trek to the Land of 1000 Dances, in a series started up north by my brother chronicler of all things Brown & Beautiful, Mr. Al Carlos Hernandez of Oakland, California.

Recently, Al Carlos put out a piece about Tejano~Chicano Music pioneer, Johnny Hernandez (Little Joe y Los Latinaires/ La Familia fame), that got my attention. Awhile earlier, my good friend, Tejano R.O.O.T.S. Hall of Fame Radio DJ Jesus "Crazy Chuy" Hernandez had also brought to my attention that Johnny was "coming to play in L.A." armed with a new CD entitled "This time...again", that was a collection of oldies and blues. My kind of stuff, for sure! I had to check it out.

But first, a little Tejano music history from the L.A. perspective. "Tejano" literally translated, means a person from Texas, USA.

First introduced to Tejano music by brother U.S. Marines during the Viet Nam era, I fondly recall classic Tejano jams such as "Rebelde", "Las Nubes", "Cartas Marcadas","A la Guerra ya me llevan", and "Por una mujer casada" on 8 track tapes, that put a whole new twist to the term "Spanish language music" for me and a whole generation of Chicanos in the 1960's and 1970's. Like hard-driving early Rock & Roll, early Tejano music made you want to get up and dance, and scream to the winds that you were having a good time, no matter what cards life had dealt you. I always liked that...

Likened to the originality of the Eastside Sound of Los Angeles, the Tejano sound of music pioneers like the Hernandez Brothers (Joe, Johnny, and Rocky) took traditional Mexican music to a new level of musical creativity by incorporating big band brass, rock & roll, blues, rockabilly, German polka, country, and traditional "ranchera" music into a new mix of Spanish slang lyrics and dance music that had traditional lovers of Mexican music scratching their heads as "Chicano~Tejano" music kept Brown people partying north of the border, and attracted the southerners.

Besides love songs, the new Tejano music sang of the heartbreaks, struggles, and fun of life and love in a unique style ... singing, mocking, laughing, and crying, with an occasional "grito" (or Indian warrior cry) for good measure, all performed in a harmonious chorus of voices and instruments that is a classic, original American art form unknown to many.

"I've been into music all my life, and I've been a performer for over 46 years," Johnny told me proudly during a recent interview. "I first came out to the West Coast to perform with the Latinaires back in 1964 out of Temple, Texas, right about the time the East Side sound started taking off in L.A. Man, it was a unique time for music back in those days, and we were accepted by the RAZA of L.A., no questions asked. Intermingling with great horn men such as Tony "Ham" Guerrero of Texas, and Bobby Loya of East L.A., we easily influenced each other, and because of this, we were exposed to a variety of music between us that broadened both our horizons and sense of creativity, that has advanced Chicano music to the level it's at today".

Joining me recently at one of L.A.'s favorite outdoor venues for live Chicano music, Johnny and his lovely lady Valentina joined myself, Steven Chavez and our ladies for a show put on by one of Aztlan's current music sensations, BARELA.

Hitherto known to me as a strictly Spanish language singer, I was caught off guard when I noticed Johnny softly singing along to BARELA's repertoire of English language rock, R&B, Disco, Oldies, and Soul music.

"Hey, we all play and sing this music in Texas and California. It's the music our people love and dance to. I've done this stuff for years, and I've performed along some of the greats...and I'm still in love with the music," Johnny told me.

Johnny's new CD "This time...again" is a collection of his favorite oldies covers mixed in with some original blues, and topped off with an original Chicano~Tejano Latin Soul dance tune called "Toda me gusta de ti" that I can easily see becoming a West Coast Latino favorite. The music arrangements are good.

Bringing you that intimate, small, comfortable club sound, Johnny's rendition of oldies would give any veterano a nostalgic chill. His "bump & grind" and "Wicked, wicked woman" blues jams make you think of those old style, smoke-filled, after-dark blues clubs of yesterday, where only "the cool" hung out.

"I'm from Texas, and I love Tejanos & Tejano music, but I was beginning to feel confined just staying in that genre, singing only in Spanish. I came out to L.A. because I see a bigger mix and variety of music genres that I can have fun in. I don't mean that ear splitting noise and vulgar lyrics that some young people play today, but the soulful sound of talented Chicano musicians that can carry a tune, make you smile, make you dance, make you love...that's the world I want to hang out in".

Taking Johnny backstage to meet the BARELA brothers and members of the band, I could see the respect the younger artists had for this Tejano legend, and the respect returned, as the legend complimented the up-and-coming stars by answering questions about what the future as a musician would be like, while complimenting their talent and performance on this day, under the sunshine of the Land of 1000 Dances.

I could only think of good things to come, as Johnny happily told me he wants to further explore and enjoy the music, people, sights and sounds of the City of Angels, while hooking up with other artists and continuing to expand his love of music and performing.

...and with that, LatinoLA proudly welcomes another music warrior de Aztlan into the fold that is the Land of 1000 Dances.

Johnny Hernandez...Tejano Music legend, singer, songwriter...CHICANO !

Note: Johnny's new CD is available at Wal-Mart and at johnnyhernandez.biz/merchandise.html


Frankie Firme is the Al Capone of the microphone and the Hitman of West Coast Chicano Soul. Catch his music shows at: www.eastLArevue.com and www.chicanoexpress.com




If you are a 1st or 2nd generation Tex Mex Chicano you already know that Johnny Hernandez is a Southwestern musical icon. He and his brother Little Joe worked 24 years together under the name of Little Joe and the Latinaires, and Little Joe Y La Familia. If you still don't know and consider yourself an American OG Chicano and you have never danced a polka, then you are culturally deprived. Johnny has recorded over 50 albums with Little Joe, and has won countless awards as duo of the year, single of the year, and album of the year. In 2004 Johnny was inducted into the Tejano Roots Hall of Fame.

During the best time of my life gonzo travels with the Familia back in the day I learned that, "Texas is a beautiful place, and Tejanos are a beautiful race" and now that most of the statues of limitations are over, I've been fortunate to track Johnny down again and am happy to know, he has a new album and his voice is still as smooth as a Sedan De Ville.

Johnny said recently, "I went solo in 1985 and have continued to record 8 Tejano albums and have toured with my own band. I've decided on this my 9th solo project to record an album in English, entitled "This Time (Again)".
The title is taken from Johnny's English crossover hit "This Time" recorded on the landmark Little Joe, Johnny and La Famila album "Para La Gente", the album that featured the Tejano national anthem, Las Nubes.


He said, "Except for 3 original songs, all of the selections are songs I grew up listening to when they were Top 40 hits or the underground radio blues. I was born in a predominately African American neighborhood and grew up listening to artist like Nat King Cole, Big Joe Turner, Ivory Joe Hunter, The Moon Glows, Chuck Willis, Jimmy Reed, and even the Ink Spots. The singers who have influenced me the most are, Sinatra, Tony Bennett, Stevie, Al Jarreau, Michael McDonald and, being from Texas - big respect - Roy Rogers the King of the Cowboys.
"My impetus to sing on stage originally came from Jimmy Clanton. The Promoters would let me in to the Latinaires gigs free if I sat in with the band and sang "Just a Dream".


Johnny has recently relocated to LA as a base of operations in launching his English crossover effort.
He said, "LA is one of the Mecca cities of music in the world. I feel that my career can excel in the general market by networking and working closer with the music industry community. I'm really interested in exploring the Smooth Jazz genre."


"The highlight of my solo career so far has been to open for Herb Reed and The Platters in Las Vegas; it was a dream come true for me as I consider the Platters the best vocal group of their era."


"What I hope to accomplish with this new CD is to maintain the integrity of the original recordings of songs that have always really meant something to me, while giving each selection a modern sound with progressive chord structures embellished by today's studio technologies. On "Just a Dream" I stayed as close to the original arrangement as possible. I feel people will appreciate the sincerity of the artistic effort."


"I positioned the smooth Jazz/contemporary blues/fifties oldies song line up the same way I would while performing live. Start off with an up tempo upbeat dance tune, then slow the pace down, pick it up again, work towards the exciting big finish. We purposely recorded the songs a little longer than normal, so as to keep the groove going while people dance at family gatherings, parties, weddings, quinceaneras, etc. Sweet Home Chicago is getting major airplay and its really an English CD, but when I heard "Todo Me Gusta De Ti" it sounded like a Santana song that would give me the big finish I was looking for."


Look for it indeed. Johnny Hernandez is one of the true real artists of our times, he has given his life to music, he sings from the heart, he is a man with a sweet soul, and if you dont know, you need to ask somebody and if they don't know go out and buy the CD, then ya'll will find out what all the buzz is about.


The CD entitled This Time (Again) is available at Wal-Mart and www.JohnnyHernandez.biz thru (Paypal) or:

http://www.johnnyhernandez.biz/merchandise.html
The only dance Al Carlos can do is the polka.
Ramiro Burr
Ramiro Burr is a San Antonio Express-News music reporter and regionally syndicated columnist


April 25, 2007
UPDATED - New CDs: Johnny Hernandez' blues/oldies
http://blogs.mysanantonio.com/weblogs/latinnotes/archives/2007/04/new_cds_johnny.html


Even my colleague Jim Beal Jr.here, who's covered and reviewed more blues and
jazz artists/CDs than I can think of, was impressed with the musicianship and the
vocals on Hernandez's new CD. He had some quiblings about it, like the opening track "Sweet Home Chicago," "being a bit too obvious." But he said he would start it playing on his Third Coast Music Network and/or Blues Avenue radio show on Thursdays on KSYM-FM (90.1)

The question I have now is, how Hernandez will take this on the road? Does he have a new band or will he use these awesome musicians?
-----------------
Another new CD is "This Time (Again)" by Johnny Hernandez, brother of Little Joe.
But, this is not Tejano. Instead Hernandez whips up jazz, oldies, early rock 'n' roll, and blues in a 13-song collection.


Highlights include the old '50s standards "Kansas City," "Stagger Lee," "C.C. Rider,"
"Just a Dream," "Willie and the Hand Jive," and "Sweet Home Chicago." Hernandez
rounded up a solid team of musicians to knock this one out, including Vick "Nash" Espinoza, guitar/bass; David Apodaca, drums; Johnny Gonzalez, sax; Ralph Rifon, bari sax; Mingo Garcia, bass; Javier Zenteno, timbales, congas.


We've always said Tex-Mex musicians are among the most versatile in the world, and here is one more CD that's proof.

Hernandez also has a few key dates lined up to promote the CD including May 11, Houston's Don Araquiz restaurant; May 25, Mercedes' K.C. Hall - Little Joe y La Familia & Johnny; May 26, Rio Grande City's K.C. Hall - Little Joe Y La Familia & Johnny; June 2, Midland's Hilton Hotel / Plaza with 5-Star Band. More details at:

http://www.valentinaonline.com/home.html
For Bookings: (505) 453-7244
E-Mail:

jdh95825@yahoo.com



Website Design By:

V.A.M.P.

- (702) 234-9606

E-Mail:

valentina.online@yahoo.com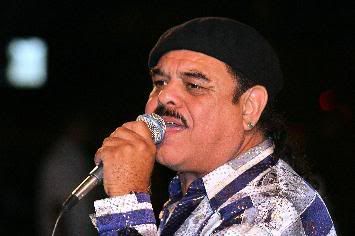 Photo By: Mario Rodriguez
©Copyright 2016 Johnny Hernandez. All rights reserved.
Web Hosting powered by Network Solutions®